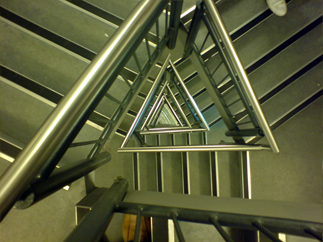 Our doctors tell us to get 30 minutes of exercise every day, but for most of us, that's easier said than done. In fact, many of us are so discouraged by this seemingly impossible goal that we fail to exercise at all.
However, exercise doesn't have to take place in one chunk of time each day. Instead, we can find moments throughout our day to squeeze in a few minutes of exercise. In other words, it may be easier to attain those 30 minutes of physical exercise than we thought. Here's how:
Take the stairs – It may be easier to hop on an escalator or elevator, but it will do your body good to take the stairs. Just walking up and down a set of stairs a few times a day will add up quickly when it comes to getting in your daily does of exercise.
Move around during the commercials – Of course you should be able to watch your favorite television shows after a long day of work, but use those commercial breaks to your advantage. Simply sliding down onto the floor to do some legs lifts, crunches or push-ups will help you in your quest to achieve more physical exercise. Consider that a one-hour show has up to six commercial breaks! That is ample opportunity to get your exercise!
Parking the car – If you live close enough to work to bike instead of drive, or if you have to make a pit stop at your local convenience store for a loaf of bread and you can walk instead of drive, why not? Although you may not be able to do this regularly, just switching up your routine once in a while and leaving the car at home will help you achieve your exercise goals.
Park further away – The next time you head to your local mall or grocery store, don't waste your time looking for the closest parking space. Park further away and use this opportunity to stretch your legs.
Clean the house – Ten or twenty minutes of mild housework can get your heart pumping. Sweeping the floor, vacuuming the carpets or scrubbing the bathtub are all great ways to get moving. Plus, you have the added bonus of enjoying a neat and tidy home!
Get in touch with your green thumb – A great way to enjoy a quiet afternoon and squeeze a little exercise into your day is to head outdoors and garden. From mowing the lawn to pulling weeds and planting flowers, gardening is a great activity that is good for both the body and the mind.
Stand up while talking on the phone – Many of us are connected to our phones for the better part of the day because of work, so why not take advantage of this time to get a little exercise in your day? Simply standing up and either walking in place or walking around your office is a great way to get your heart pumping.
Exercising is easy when you look for smart, yet small windows to incorporate a little heart-pumping activity!