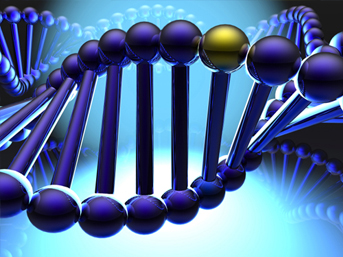 If you've become frustrated because it seems like your weight is constantly yo-yoing, you're not alone. In fact, scientists may have discovered a reason why so many of us put on the pounds after completing a successful diet: your genes!
A study, completed by the Maastricht University's Department of Human Biology, found that a gene that regulates blood pressure may also be responsible for post-diet weight gain for women. In particular, this study found that women who had a tendency to quickly gain weight back following a diet had a higher concentration of a certain protein in their blood during dieting.
As a result of the study, researchers hope to develop a test that will identify people who are susceptible to weight gain following dieting. Before this study was conducted, there was no link between this particular protein and obesity.
A Test for Predicting Yo-Yo Dieting
Researchers, at this point, have no explanation for what they found, but they hope that within a few years, a test will be developed that will help identify individuals who may be at risk for weight gain following a diet. The protein researchers found to be responsible for weight gain, which is known as the angiotensin 1 converting enzyme, or ACE, is currently found through tests for blood pressure. Hospitals currently use a test to check activity for regulating blood pressure.
It is estimated that up to 80 percent of dieters suffer from weight gain following dieting, and the majority of those people return to their original weight within a year following a diet.
Details of the Study
The Maastricht University's Department of Human Biology study followed 100 women, ages 20 to 45; half of the women in the study maintained their post-diet weight and half did not. Dr. Ping Wang, a scientist in the research group, published the findings of this study in the online scientific journal, PloS ONE.
How You Can Prevent Yo-Yo Dieting
Although a test to identify this protein is still a few years away, there are a few things you can do to fight the yo-yo dieting effect:
Stay positive – Destructive thought patterns are the quickest route to failure, so it is important to change your mind-set about food and dieting. Make a conscious effort to control your eating and think about what you're eating before putting anything into your mouth.
Use mental imagery – Creating mental images is thought to trigger electrochemical changes in your brain that enable you to better translate your thoughts into action. Instead of simply saying, "I must take a walk today," imagine yourself enjoying a walk in the sunshine, and chances are, you will be more likely to follow through on this action.
Think positive – The best way to continue a positive pattern of eating is to think positive. Don't let negative thoughts intercept your mind-set, as this is often the best way to ensure failure when it comes to maintaining your weight. Take the time to reflect upon your day and pat yourself on the back if you made good decisions that day. On the other hand, don't beat yourself up if you had an "off" day; instead, make a promise to start fresh the next day and move on.
While there may be a genetic marker that can contribute to yo-yo dieting, know that your weight is still in your hands with a positive attitude and healthy lifestyle.