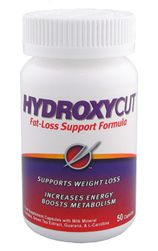 More buying options:
Hydroxycut is currently America's number one selling weight loss supplement, available in three separate forms: Original Hydroxycut, Hydroxycut 24, and Caffeine Free Hydroxycut. Using a combination of ingredients, Hydroxycut claims to boost energy and weight loss results quickly. Paired with a plan of Hydroxycut, diet, and exercise, various studies report that users experience an increased weight loss 4.5 times greater than placebo groups.
Original Hydroxycut
Hydroxycut contains three key ingredients: Garcinia Cambogia, green tea, and Gymnema Sylvestre. Garcinia Cambogia releases an active incredient, HCA, which is absorbed in the body in a completely solulable form. The Green Tea component provides users with both caffeine and EGCG, which is an antioxidant. Research shows that green tea stimulates a thermo genesis process, where the body creates heat to burn calories.
Combined with Gymnema Sylvestre, an herb found in the rainforest, Hydroxycut claims to boost weight loss, control appetite, boost energy, and burn calories. In two 8-week studies by Hydroxycut, consumers of the pill experienced decreased body mass index measurements significantly greater than individuals using a placebo. The study also included plans of both diet and exercise with the Hydroxycut and placebo groups.
Hydroxycut 24
With similar ingredients to the original Hydroxycut, this version provides consumers with both morning and evening formulas.
The morning formula claims to:
Help users lose weight fast
Increase energy levels
Burn calories
Control appetite throughout the day
The evening formula claims to:
Aid in a more restful night's sleep
Continued appetite control
In addition to original Hydroxycut's 8 week study, research from Hydroxycut 24 shows that consumers had an increased calorie expenditure of 232 kcal, compared with individuals taking a placebo. This pill is intended to also regulate carbohydrates, fat metabolism, and appetite. Also, users report less feelings of restlessness when taking Hydroxycut 24, as opposed to the original formula.
Caffeine Free Hydroxycut
Similar to the original formula, Caffeine free Hydroxycut is known to reduce the side effects of jitteriness or increased heart rate.  This version strips the pill of its Green Tea Extract, which contains caffeine, so users do not receive the potential benefits of EGCG, as described in Original and Hydroxycut 24.  In an 8 week study, consumers of Caffeine Free Hydroxycut lost nearly 12 pounds more than individuals taking a placebo.
Product Reviews
Users of Hydoxycut report the following positive results:
Fat loss
Weight loss
An increase in metabolism
Decreased Appetite
An increase in energy
While research indicates that weight loss is achievable with Hydroxycut, using this product may result in the following side-effects:
Increased blood pressure
Increased heart rate
Head-ache, lightheadedness, dizziness
Restlessness or feelings of hyperactivity
Nose bleeds
Blurred Vision
Acne break outs
Side effects will vary for each individual user, while side effects also may vary between each version of Hydroxycut.  If a user experiences any side effects, he/she should stop taking this drug immediately, and side effects should depart.
Hydroxycut

,